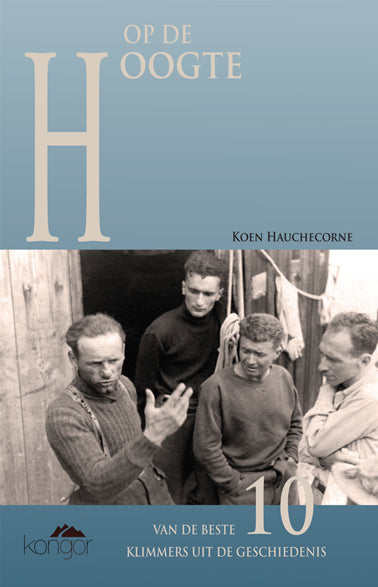 Op de Hoogte van de beste 10 klimmers uit de Geschiedenis
Vendor
Regular price

€1612
Regular price

Sale price

€1612
Unit price

per
Despite potential disagreements on the choice of the top ten climbers, this book is sure to be a fixture on any mountain enthusiast's nightstand.
After detailing the selection, Koen dives into the climbers' motivations and what they've each contributed to the sport. He goes on to explore the sport's development, tying it to social changes, and he even clarifies complicated climbing jargon for the layperson. But this book is more than just an informative read: through the biographies of these incredible people, readers are taken on a journey to the lofty heights they alone have reached.
Author: Koen Hauchercorne
Language: Dutch

All orders over € 39.95 within the Netherlands and Belgium will be delivered on your doorstep for free! For all orders below this amount, you'll be requested to pay a € 6.95 contribution to the shipping costs.
Please check the table below for shipping rates to other countries:
| | | | | |
| --- | --- | --- | --- | --- |
| Country | Rate | | Country | Rate |
| Netherlands | Free/€6.95 | | Monaco | €13.95 |
| Belgium | Free/€6.95 | | Norway | €23.95 |
| Germany | €8.95 | | Poland | €18.95 |
| Luxembourg | €11.95 | | Portugal | €16.95 |
| | | | Slovakia | €15.95 |
| Austria | €13.95 | | Slovenia | €19.95 |
| Czech Republic | €15.95 | | Spain | €14.95 |
| Denmark | €13.95 | | Sweden | €18.95 |
| Finland | €18.95 | | Switzerland | €23.95 |
| France | €13.95 | | United Kingdom | €23.95 |
| Hungary | €18.95 | | | |
| Ireland | €17.95 | | Rest of Europe | €25.00 |
| Italy | €14.95 | | Rest of the World | €40.00 |