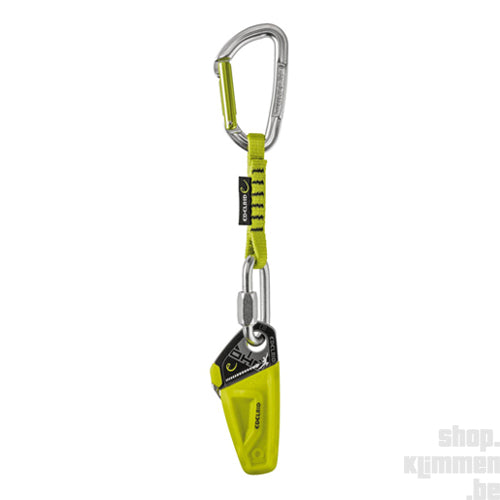 Ohm, assisted-braking resistor
Vendor
Regular price

€9298
Regular price

€10326

Sale price

€9298
Unit price

per
Assisted-braking resistor to increase rope friction when there is a large weight difference between belayer and lead climber. In the event of a fall, the OHM increases the amount of rope friction so that a lighter belayer can hold a heavier lead climber without difficulty.
Belayer requires significantly less hand braking force to arrest a fall.
Lowering a heavier climber is much easier to control.
OHM is attached at the first bolt in the safety chain. Should a lead climber fall at the first bolt, the OHM significantly reduces the risk of a possible ground fall.
Rope handling when belaying a lead climber not affected (no additional friction when paying out rope).
Recommended weight difference (lead climber > belayer): 10-40 kg
Minimum weight belayer: 40 kg
For single ropes with a diameter of 8.9-11 mm
Certification: CE 0123
Made in Germany
All orders over € 39.95 within the Netherlands and Belgium will be delivered on your doorstep for free! For all orders below this amount, you'll be requested to pay a € 6.95 contribution to the shipping costs.
Please check the table below for shipping rates to other countries:
| | | | | |
| --- | --- | --- | --- | --- |
| Country | Rate | | Country | Rate |
| Netherlands | Free/€6.95 | | Monaco | €13.95 |
| Belgium | Free/€6.95 | | Norway | €23.95 |
| Germany | €8.95 | | Poland | €18.95 |
| Luxembourg | €11.95 | | Portugal | €16.95 |
| | | | Slovakia | €15.95 |
| Austria | €13.95 | | Slovenia | €19.95 |
| Czech Republic | €15.95 | | Spain | €14.95 |
| Denmark | €13.95 | | Sweden | €18.95 |
| Finland | €18.95 | | Switzerland | €23.95 |
| France | €13.95 | | United Kingdom | €23.95 |
| Hungary | €18.95 | | | |
| Ireland | €17.95 | | Rest of Europe | €25.00 |
| Italy | €14.95 | | Rest of the World | €40.00 |