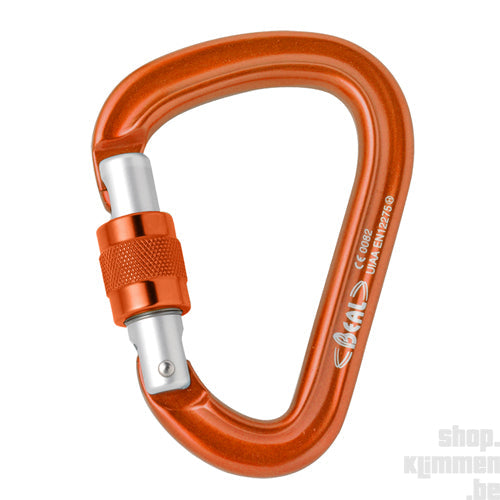 Be Safe - orange, HMS carabiner
Vendor
Regular price

€1198
Regular price

Sale price

€1198
Unit price

per
Medium sized screwgate HMS carabiner for use with belay devices.
An HMS carabiner for two ropes.
The BE SAFE SCREW carabiner is an HMS carabiner adapted for belaying. As such, it can accommodate two ropes at once, without the risk of them overlapping in the event of a fall. The reception cradle ensures that the two ropes slide together and does not generate friction on the sides of the carabiner when the rope is braked. This is true whether rappelling or stopping a fall.

Weight: 66 g
Strength: 28 kN (major axe), 7 kN (minor axe), 7 kN (open gate)
Opening: 20 mm
Certificate: CE EN 12275 B
Made in Taiwan
All orders over € 39.95 within the Netherlands and Belgium will be delivered on your doorstep for free! For all orders below this amount, you'll be requested to pay a € 6.95 contribution to the shipping costs.
Please check the table below for shipping rates to other countries:
| | | | | |
| --- | --- | --- | --- | --- |
| Country | Rate | | Country | Rate |
| Netherlands | Free/€6.95 | | Monaco | €13.95 |
| Belgium | Free/€6.95 | | Norway | €23.95 |
| Germany | €8.95 | | Poland | €18.95 |
| Luxembourg | €11.95 | | Portugal | €16.95 |
| | | | Slovakia | €15.95 |
| Austria | €13.95 | | Slovenia | €19.95 |
| Czech Republic | €15.95 | | Spain | €14.95 |
| Denmark | €13.95 | | Sweden | €18.95 |
| Finland | €18.95 | | Switzerland | €23.95 |
| France | €13.95 | | United Kingdom | €23.95 |
| Hungary | €18.95 | | | |
| Ireland | €17.95 | | Rest of Europe | €25.00 |
| Italy | €14.95 | | Rest of the World | €40.00 |