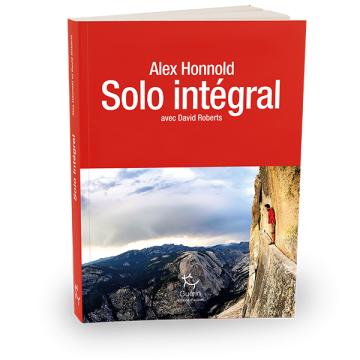 Alex Honnold - Solo intégral
Vendor
Regular price

€2397
Regular price

Sale price

€2397
Unit price

per
In 2008, America was introduced to an exceptionally talented climber. At just 22 years old, Alex Honnold had achieved a remarkable feat by completing two major solo routes in a single day-solo and without a rope-scaling the perfectly vertical walls of the American West. Following this, Alex embarked on a journey to conquer the towering "big walls" of Yosemite, some of which reach nearly 1,000 meters in height. Through awe-inspiring accomplishments, often captured in films that leave your palms sweaty, his reputation has continued to soar.
In this collaborative book, Alex Honnold recalls his ascents with gripping suspense and opens up about himself with unguarded sincerity. He is reserved yet resolute, brimming with passion, unflinching in the face of danger, and capable of discussing it with just as much composure.
Renowned writer David Roberts deciphers Alex's 'radical' approach to climbing and explores the reasons behind his rise to fame. He notes, "Alex has pushed the boundaries of the most extreme and perilous form of climbing far beyond what seemed conceivable. This quest, in its absolute simplicity, is comprehensible even to the most inexperienced observer. The stakes are ultimate: to fall is to face certain death."
Authors: Alex Honnold, David Roberts
Language: French
Number of pages: 344
Size: 15 cm x 21 cm
All orders over € 39.95 within the Netherlands and Belgium will be delivered on your doorstep for free! For all orders below this amount, you'll be requested to pay a € 6.95 contribution to the shipping costs.
Please check the table below for shipping rates to other countries:
| | | | | |
| --- | --- | --- | --- | --- |
| Country | Rate | | Country | Rate |
| Netherlands | Free/€6.95 | | Monaco | €13.95 |
| Belgium | Free/€6.95 | | Norway | €23.95 |
| Germany | €8.95 | | Poland | €18.95 |
| Luxembourg | €11.95 | | Portugal | €16.95 |
| | | | Slovakia | €15.95 |
| Austria | €13.95 | | Slovenia | €19.95 |
| Czech Republic | €15.95 | | Spain | €14.95 |
| Denmark | €13.95 | | Sweden | €18.95 |
| Finland | €18.95 | | Switzerland | €23.95 |
| France | €13.95 | | United Kingdom | €23.95 |
| Hungary | €18.95 | | | |
| Ireland | €17.95 | | Rest of Europe | €25.00 |
| Italy | €14.95 | | Rest of the World | €40.00 |