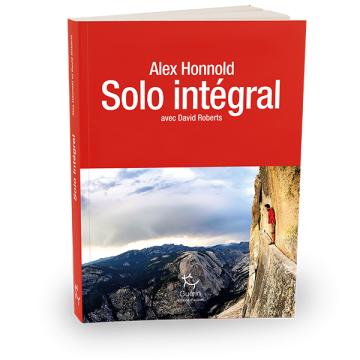 Alex Honnold - Solo intégral
Vendor
Regular price

€2397
Regular price

Sale price

€2397
Unit price

per
In 2008, America discovered a gifted climber. Alex Honnold, 22, had just completed two major solo routes in the same day: alone, without rope, on the perfectly vertical walls of the American West. Since then, Alex has traced his path on the "big walls" of Yosemite, these "walls" that are sometimes close to 1,000 metres high. Through breathtaking achievements, served by films that leave your hands sweaty, his fame has continued to grow.
In this book in two voices, Alex Honnold recounts his climbs with consummate suspense and reveals himself with sincerity: shy but solid, passionate, capable of facing risk and talking about it with equal composure.
Writer David Roberts deciphers Alex's "radical" game and the reasons for his fame: "Alex has pushed the most extreme and dangerous form of climbing far beyond the limits of what seemed possible. In its perfect simplicity, this quest can be understood by the most novice observer. The stakes are ultimate: to fall is to die.
Authors: Alex Honnold, David Roberts
Language: French
Number of pages: 344
Size: 15 cm x 21 cm
All orders over € 39.95 within the Netherlands and Belgium will be delivered on your doorstep for free! For all orders below this amount, you'll be requested to pay a € 6.95 contribution to the shipping costs.
Please check the table below for shipping rates to other countries:
| | | | | |
| --- | --- | --- | --- | --- |
| Country | Rate | | Country | Rate |
| Netherlands | Free/€6.95 | | Monaco | €13.95 |
| Belgium | Free/€6.95 | | Norway | €23.95 |
| Germany | €8.95 | | Poland | €18.95 |
| Luxembourg | €11.95 | | Portugal | €16.95 |
| | | | Slovakia | €15.95 |
| Austria | €13.95 | | Slovenia | €19.95 |
| Czech Republic | €15.95 | | Spain | €14.95 |
| Denmark | €13.95 | | Sweden | €18.95 |
| Finland | €18.95 | | Switzerland | €23.95 |
| France | €13.95 | | United Kingdom | €23.95 |
| Hungary | €18.95 | | | |
| Ireland | €17.95 | | Rest of Europe | €25.00 |
| Italy | €14.95 | | Rest of the World | €40.00 |